The Latest News
Lee Kennedy Company Completes Lynn Community Health Center Pharmacy
Lee Kennedy Co., Inc., has completed construction on Lynn Community Health Center's new retail pharmacy located on the first floor of the 260 Mantzoukas building. The space was designed through a Lean 3P process to envision ideal pharmacy services. Once designed, participants produced full size offsite mockups to determine the final layouts, workflow, equipment placement, and future growth zones. The intensive effort was followed by a Target Value Design and purchasing effort to mitigate escalation and supply chain issues. The project was seamlessly constructed next to the main lobby and OB/Gyn clinic.
The new 4,000 square-foot pharmacy will provide prescription pharmacy services to support employees and the health center's 40,000 patients. The in-house pharmacy will make it easier for patients to gain access to the medications they are prescribed and empower those to take charge of their health.
Now open, the pharmacy is already exceeding projections and providing reliable and simplified access to critical medications to Lynn Community Health Center's diverse patient population.
 The project team for the Lynn Community Health Center Pharmacy included Stantec as the owner's project manager, E4H Environments for Health Architecture as the architect, and AKF Group as the MEP engineer.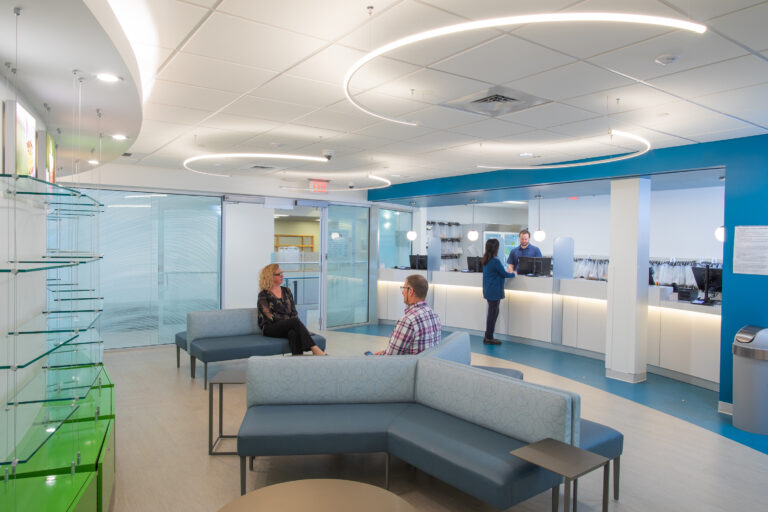 Lee Kennedy Co. Completes Simmons University Science and Library Project
Boston, MA– Lee Kennedy Co. has been managing campus improvement projects at Simmons University for more than 20 years, and recently completed construction of the University's new science center and library within Lefavour Hall and the West Wing of the Main College Building. The recent renovation completed Phase 3 of the university's "One Simmons" plan which enables the university to offer first-class facilities to their students.
Designed by Elkus Manfredi Architects, Phases 1 and 2 began in May 2020 at the height of the Covid-19 pandemic. These enabling phases consisted of updating existing classrooms, offices, and spaces within other buildings on campus, to allow Simmons to move personnel from the existing building to prepare for the fit-out of new science and library spaces.
Phase 3 was a continuation of enabling work on the main campus and the full 142,000 square-foot renovation of existing spaces in Lefavour Hall and West Wing. This provided new classrooms, offices, support spaces, a library, and 2 full floors of labs for students and faculty. The new science labs included Neuro Science, Bio/Chem, Anatomy and Physiology, Micro Genetics, Chemistry and additional research labs. Well-known for their nursing program, Simmons University also built new labs for Home Health, Surgical, ER, Pediatric, Labor and Delivery, and other various teaching simulation labs. These new labs will allow students to gain access to the same state-of-the-art equipment they will eventually go on to use after graduation.
Lee Kennedy Co. managed construction in the heart of a fully operational Simmons University campus. As a result of early planning and close collaboration with Simmons University, Redgate, and subcontractors, the entire project team was able to minimize disruption and coordinate the project logistically around the busy college campus. This project continues Lee Kennedy Co.'s life science work in and around the Boston area.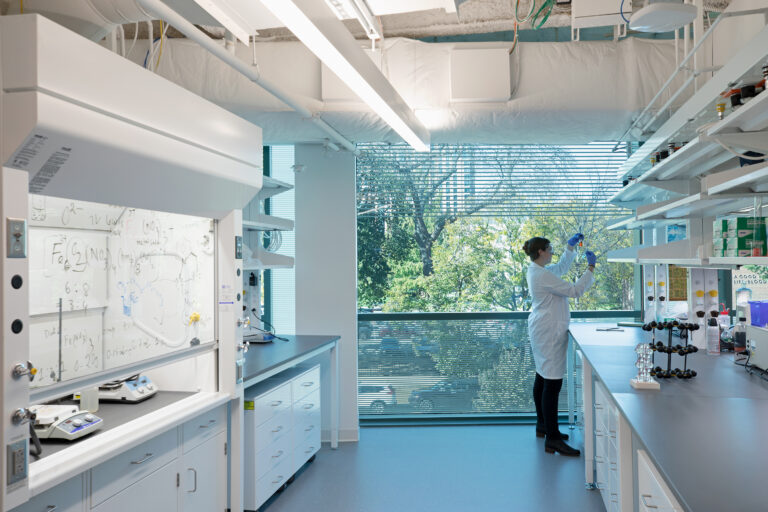 Lego Discovery Center project in Somerville Nearing Completion
Work is ramping up at our Lego Discovery Center project in Somerville!
The 43,000 square-foot space will have a retail store and an innovative attraction space that evolves its previous offerings and creates a much more interactive experience for the whole family.
This project has been a unique and fun one to work on and we can't wait for you to see the final product in just a few months! Check out the article below for the official opening date.
Lee Kennedy Co., Inc. Completes Boston Arts Academy's New Building
Lee Kennedy Co., Inc., has completed construction on Boston Arts Academy's new $117 million school building across from the famous Fenway Park at 174 Ipswich Street. More space was certainly a priority for Boston's only public school for the visual and performing arts. The 154,000sf building has expanded the Boston Arts Academy's space allowing them to welcome 15% more students than before.
"I remember walking the halls of the old building, it looked and felt like any other school building to me, with CMU walls and vinyl flooring. But there was an underlying energy, a quiet spirit that lived beneath the surface. I am so proud and honored to have built this building knowing what it means for these kids. A space to innovate, a place where they can express themselves, a place to foster endless possibilities," says Lee Michael Kennedy, President and CEO at Lee Kennedy Co., Inc.
Each floor within the building is dedicated to a different art discipline with common areas throughout to encourage spontaneous performances and instruction. All levels offer flexible classrooms and different learning environments, including a STEAM lab where students can explore how subjects like math, science, and technology intersect with the arts. Large public spaces, such as the lobby, double as art galleries where student work is displayed. The school's most impressive space has to be their 500-seat theater featuring a proscenium stage that can not only host student performances, but local artist performances as well. This allows the Boston Arts Academy to continue to develop a community learning environment where students can create their own work and be inspired through working artists in and around Boston.
"Our students deserve school buildings made for modern learning environments, and that is what we have created here," said Mary Skipper, Superintendent of Boston Public Schools. "We are proud to provide Boston's young people access to a world-class visual and performing arts high school. The students who attend this school help shape the culture and beauty of our society."
The new facility provides better rehearsal studios, high-tech fashion and fine art studios, a gymnasium, dance studios, a rooftop recital hall, and more. Many of the spaces are equipped with the latest technology used by professional artists, allowing students to gain experience using the same equipment they will eventually utilize outside of the classroom. At the recent ribbon cutting ceremony for the building, Mayor Michelle Wu stated, "This is the new baseline for the Boston Public Schools."
Lee Michael Kennedy was also honored by the Boston Arts Academy Foundation as the builder of the new facility and for his Civic Responsibility at their BAA Honors Event. Lee is significantly involved in supporting Boston's youth and currently serves on the boards for the Boys and Girls Clubs of Dorchester, Claddagh Fund, College Bound Dorchester, and the Neighborhood House Charter School.
The project team for the Boston Arts Academy included PMA Consultants as the owner's project manager, and Perkins Eastman and Wilson Butler as the architects.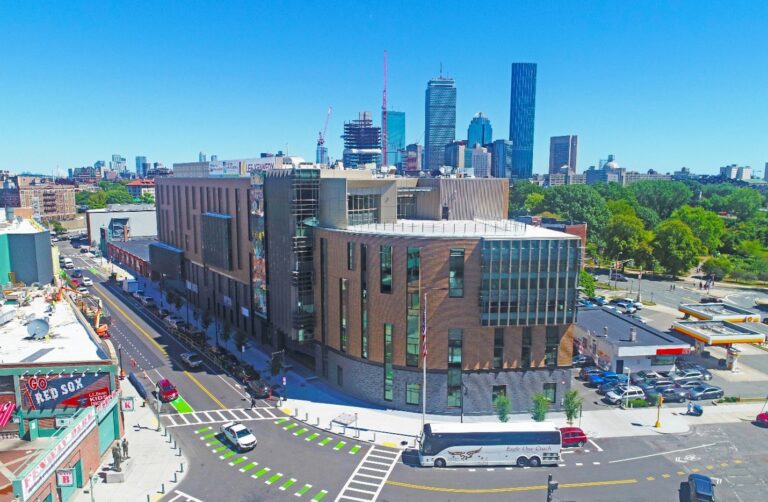 Lee Kennedy Co. Begins Interior Build-Out for NOBULL HQ
Lee Kennedy Co., has started construction on an 86,000 SF fit-out of Boston-based sportswear brand NOBULL's new headquarters at The BEAT on Morrissey Boulevard in Dorchester. NOBULL will be one of the first major tenants in the redeveloped industrial-style building that once housed The Boston Globe until 2017. They will be amongst life science, medical, and high-tech companies expected to occupy the building.
NOBULL, title sponsor of the CrossFit Games, the PGA Tour, and backed by some of professional sports biggest names including New England Patriots quarterback Mac Jones, has tripled in size over the last two years, making it evident that a new office space was necessary. When asked about the new headquarters, Cofounder Marc Wilson said, "It's about creating an environment where people want to spend time".
Designed by Studio Luz Architects with the innovation and athleticism that NOBULL represents, the space will include workout and studio areas, locker rooms, a sauna, plunge pools, and even a rock-climbing wall. Wanting to keep their space collaborative but also encourage employees to stay active, they designed a track that weaves through the office and ideated a world where meetings will be taken on foot.
Spaces for digital content production were also prioritized including a photography studio and recording office for NOBULL's co-founders Michael Schaeffer and Marcus Wilson's podcast Behind the Horns. An "experiential" retail and outdoor space are in the plans for Spring 2023 once the initial build-out is complete.
"We are excited to begin the work on NOBULL's headquarters at the BEAT. Their innovation and creativity into their new office is a perfect fit for the diversification of LKCO's Interiors/Special Projects sector", said Scott Giles, Vice President – Interiors/Special Projects. "We are looking forward to providing an inventive space for NOBULL to continue to expand and grow their business."