The Latest News
Lee Kennedy Announces Promotions of Vice Presidents
As part of our growth plan, we would like to announce the promotion of 4 integral team members. Rose Conti, Tom Leclerc, Dan Lebiedz and Paul Leonard have been named Vice Presidents of Lee Kennedy, continuing our long-standing tradition of promoting from within. These promotions will bring a particular focus for each individual and will create upward mobility for the next future leaders. We are committed to a heavy focus on Life Sciences, as well as maintaining our market lead in Special Projects, Commercial and Institutional work. We are Builders who love a good challenge, believe in treating clients like family and use the best, most innovative approaches to turn big thinking into reality.
Please join us in congratulating these team members!
Lee Kennedy Completes Phase One of Historic Renovation of Harvard's Adams House
Lee Kennedy Company recently completed the full restoration and renovation of the historic Harvard student residence, Claverly Hall, concluding the first phase of the three-phase Adams House Renewal project. Lee Kennedy is also putting the final touches on Apthorp House, a residence built before the American Revolution that is also undergoing a historic renovation. Historic preservation renovation work will soon begin on phase two of the project, the adjacent Randolph house.
The full renovation of the Adams House, which once housed future luminaries Franklin D. Roosevelt, William Randolph Hearst, Sr., Henry Kissinger, and former Massachusetts Governor William Weld, is the latest development in Harvard's House Renewal Initiative, begun in 2012. Located along Mt. Auburn St. and extending down Bow St. behind the iconic Harvard Lampoon building, Adams House is part of the Harvard Houses National Register Historic District and the Harvard Square Conservation District. The four buildings, known as the Gold Coast dormitories, were constructed around the turn of the 20th century as privately-owned luxury dormitories, offering wealthy Harvard men an alternative to the antiquated Harvard Yard student residences.
"Working in conjunction with Harvard on these historic projects and restoring them to their previous grandeur is a great source of pride for the employees of our firm," said Lee Michael Kennedy, President & CEO Lee Kennedy Co. "In addition to making Claverly Hall accessible to all and supporting students' academic and social development, this magnificent building is now nothing short of breathtaking."
Claverly Hall was constructed in 1892 and had not seen any significant upgrades since it was first built. The architecture and design firm Beyer Blinder Belle (BBB), which previously partnered with Lee Kennedy on the renovation of the historic Standish Hall in the Winthrop House on the Harvard campus, was responsible for the renovation-design that preserves Claverly's history and character, improves its functionality, and provides ADA accessibility for visitors and residents. Lee Kennedy performed a complete gut renovation of Claverly, strengthening the structure with new footings, structural steel, and resilient wood framing. A new entrance was created, opening into a redesigned lounge that leads to new, multipurpose spaces for student meetings and social interaction.
Lee Kennedy worked closely with the Cambridge Historical Society to ensure compliance with the stringent historic requirements for materials, windows, and paint colors. Claverly is on track to receive LEED Gold certification. Students will return to the dormitory in late August.
The Apthorp House, which was originally constructed in 1760 but had not been renovated since 1930, is expected to be completed in early August. Like Claverly Hall, work on Apthorp House was delayed for five months due to a city-wide COVID-19 construction moratorium, but resumed in August 2020. Renovation work on Randolph House, originally built in 1897, will begin in mid-July, and like Claverly, will undergo a complete gutting of the building interior.
The scope of work on Randolph will include structural, mechanical, electrical, fire protection, and plumbing upgrades, as well as the refurbishing of the historic millwork, a replication of murals, replacement of flooring, and restoration of an ornate staircase. Exterior improvements include a complete repointing of the brick façade, rebuilding of the chimneys and roofline and the construction of additional drainage structures in the courtyard. Randolph House is expected to be completed in early 2023. Lee Kennedy has completed multiple historic renovation projects for Harvard in recent years, including the Sanders Theatre, the Widener Library, and Standish and Boylston Halls.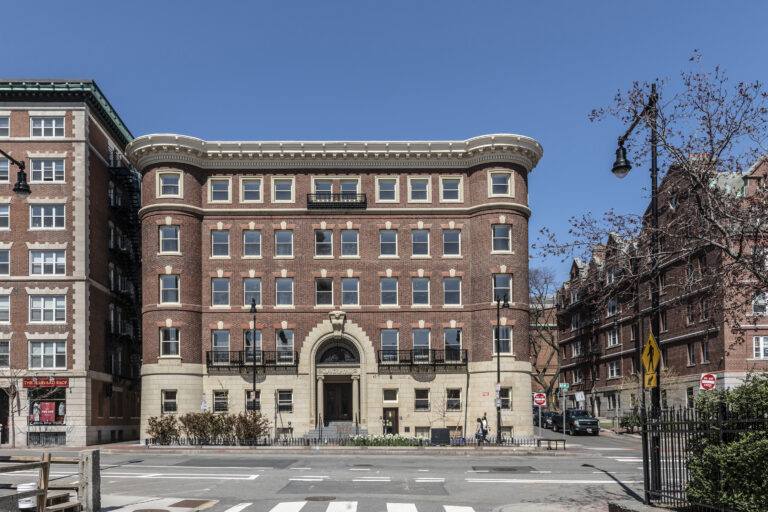 Takeda Unveils Newly Renovated Building at 500 Kendall Street in Cambridge, Massachusetts, Solidifying Presence in Fast-Growing Biopharmaceutical Community
Takeda recently unveiled their newly renovated building at 500 Kendall Street in Cambridge. Lee Kennedy's SpecialProjects/Interiors team had the pleasure to perform the 280,000 SF renovation of this beautiful space which is seeking LEED certification as well as Fitwel 3 Star certification. "500 Kendall Street is designed for Takeda's current and future workforce, with a layout that empowers our teams to work safely and collaboratively." Read below to to find out more about this best-in-class facility.
Lee Michael Kennedy Co-Chair's Boston Arts Academy Honors
Did you catch President & CEO Lee Michael Kennedy and Steve Samuels of Samuels & Associates on This Week in Business on NECN? They discuss the Fenway neighborhood developments and the new Boston Arts Academy with host Brian Burnell. Click below to watch it
Boston Arts Academy tops off $125M permanent home
Today we celebrated the momentous topping off at Boston Arts Academy, the only public high school for visual and performing arts in the City of Boston. "It's really a jewel in the crown of (Boston Public Schools) and the city itself" said Lee Michael Kennedy, President and CEO. Read more about the state-of-the-art school from the Boston Business Journal.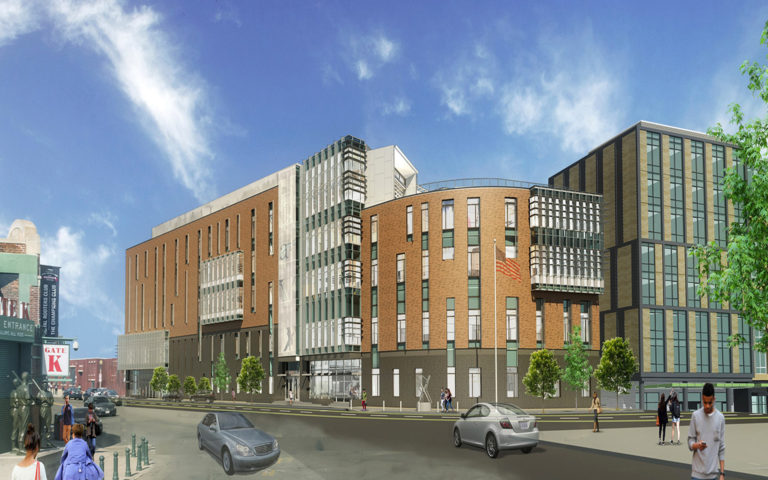 Lee Kennedy Co. Completes Interiors Build-Out for Meketa Investment Group
Lee Kennedy Co. has completed construction for the new 40,000-square-foot headquarters of the Meketa Investment Group, a global investment, consulting and advisory firm with $1.4 trillion in assets under advisement. Located at 80 University Avenue at the entrance to University Station in Westwood, the two-story office space was fit out in a new core and shell base building constructed by National Development.
"The new office better reflects Meketa's innovative, modern and collaborative culture, while offering our employees convenient access to public transportation and other amenities. It was particularly gratifying to use an all-union workforce for the buildout, said Kellie Kane, Managing Principal and Chief Operating Officer of Meketa.
Designed by Fusion Design Consultants, the new global headquarters features a waterfall staircase that connects the reception area in the front lobby to the distinctive café/coffee bar on the second floor. The main café also serves as an informal meeting space for employees to collaborate or socialize and includes an outdoor patio as well as a fitness center. The office layout consists of private offices and workstations, but also includes conference and huddle rooms and open space designed to encourage impromptu exchanges of ideas. The private offices incorporate sliding glass doors to maximize space while allowing for more natural light to permeate the office area. Given the confidential nature of Meketa's business, much attention was paid to acoustic privacy through design and construction, which incorporated double glazed glass for additional privacy at conference rooms and other key locations.
Owner's Project Manager, JLLbrought the team on early during the base building construction process to help advise the builders of their fit-out plans as a way to reduce overall costs, such as leaving the stairwell area unfinished and the slab on grade open to accommodate underground electrical and plumbing. Due to the impact COVID has had on the corporate office market, Meketa opted to set aside 5,000 square feet of the 40,000 square foot building to offer as temporary sublease space. The team was able to quickly accommodate the change, giving Meketa flexibility while still hitting the targeted move -indate.
Although the pandemic delayed the start of the project due to the state-wide ban on construction, Lee Kennedy was able to hit the ground running on May 26th, the day Governor Baker lifted the ban. During the shutdown, Lee Kennedy developed extensive COVID-19 safety protocols, and recorded zero cases during the course of the buildout, allowing the project to proceed as scheduled.
Lee Kennedy Co. has worked extensively in the suburban Route 128 corridor in recent years, including Analog Devices' global headquarters expansion in Wilmington; construction of the new NBCUniversal regional headquarters in Needham that brings four local television stations – NBC 10 Boston, NBC Sports Boston, Telemundo Boston and New England Cable News – under one roof; and the gut renovation and fit-out of the Shark Ninja headquarters in Needham.
"While Lee Kennedy is often thought of as a 'Boston builder', we've significantly increased our presence in the suburban market with high profile clients on projects of all types and sizes.," said Lee Michael Kennedy, President & CEO of Lee Kennedy Co. "As traffic congestion and now COVID has firms considering suburban locations or satellite offices, we hope to continue to expand our scope along Route 128 and beyond."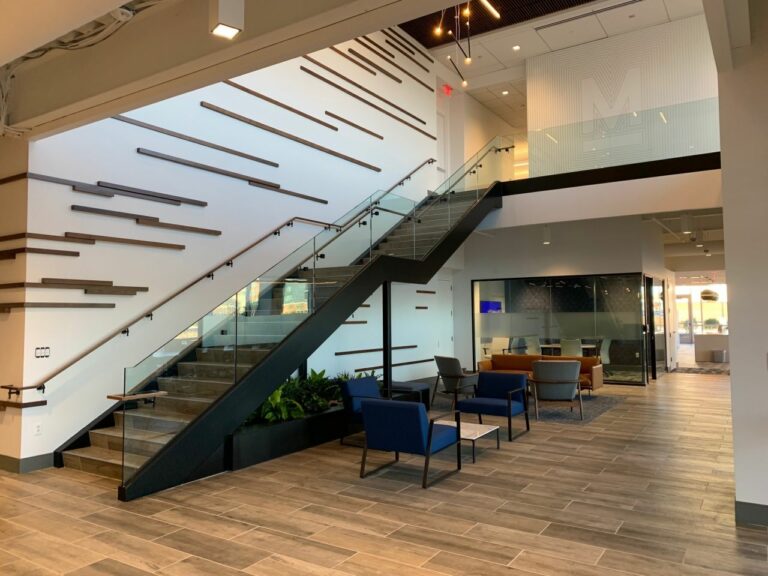 Lee Kennedy Co. Completes Hood Park Mixed-Use Project
Lee Kennedy Co. has completed 100 Hood Park Drive, a key component in the reimagining of the former H.P. Hood Dairy Plant into a life science/technology hub being developed by Catamount Management. The seven-story building delivers 54,000 square feet of new laboratory/R&D shell space, over 880 parking spaces, and 24,000 square feet of retail space. The garage also comes equipped with 50 electric vehicle charging stations and 54 bike storage spaces, laying the foundation to accommodate the region's growing community of life science and technology tenants.
"The completion of 100 Hood Park Drive is a critical milestone in the transformation of Hood Park into a 21st Century mixed use, live/work/play campus," said Mark Rosenshein, partner at Trademark Partners, owner's project manager for Hood Park. "The creation of the parking structure, which can be converted to office/lab space in the future, provides the parking capacity at Hood to enable the next phase of development of approved lab, office, and retail uses."
 Situated on 20 acres in Charlestown with easy access to the MBTA Orange Line and Rt. 93, Hood Park will combine first-class office, lab and R&D space along with a hotel, luxury apartments, retail space and Hood Green, a one-acre greenspace that will serve as a public venue for outdoor events such as concerts, neighborhood festivals and farmer's markets. Hood Park will also feature a series of pocket parks, gathering spaces and landscaped rooftop terraces designed to maximize greenspace on the campus.
Hood Park was master-planned by SMMA (Symmes Maini McKee Associates) and is being built in phases over the next decade under the guidance of Trademark Partners. Prior to the construction of 100 Hood Park Drive, Catamount developed 500, 510 and 570 Rutherford Ave., home to Indigo Ag, Inc., Cambridge College, Bunker Hill Community College, as well as data and technology firms.
In August of 2019, Lee Kennedy Co. completed construction of The Harvey, a six-story, 177-unit luxury apartment community (designed by CBT Architects) adjacent to 100 Hood Park Drive. Named for Harvey Perley Hood, founder of H.P. Hood and Sons, and designed to emulate the scale and proportion of the existing industrial structures along Rutherford Avenue, The Harvey includes a mix of studio, one- and two-bedroom units (including 23 affordable units) and a host of amenities.
The next major project will be 10 Stack Street (designed by Elkus Manfredi), a fully-permitted, 350,000 square foot Class-A lab and office building that will serve as the commercial anchor to Hood Park. In the meantime, Lee Kennedy Co. is building 6 Stack St., a single-story, 3,500 square foot campus amenity that will house space for 240 bicycles, restrooms and showers, a bike retail and repair space, and also features a rooftop terrace for social gatherings. Lee Kennedy is simultaneously constructing "The Pond", an interactive water feature included in the new open space and plaza on Hood Park Drive, creating new entry experiences for the 500 and 510 Rutherford Ave. buildings.
Future plans for Hood Park include: 30 Stack Street, 157,400 square feet of office/lab space; 45 Stack Street, 6,050 square feet of retail space; 35 Supertest Street, 275,950 square feet of office and residential space, plus 100 parking spaces; 25 Supertest Street: 128,800 square feet of hotel space; and 15 Supertest Street: 12,000 square feet of retail space.
"As the recognized leader of the global life sciences industry, Greater Boston continues to expand beyond Kendall Square and Cambridge, and Hood Park is poised to be a key contributor to that expansion by providing first-class office and lab space on a sustainable urban campus," said Lee Michael Kennedy, President & CEO of Lee Kennedy Co. "The completion of 100 Hood Park Drive and the success of The Harvey really lays the groundwork for Hood Park to become a premier mixed-use urban science and technology campus."